Broadcasting from home – anchors and reporters from the local news to network broadcasts are doing it every night.  We live in the "new normal" thanks to COVID-19.  Nothing looks like it did a month ago.  In many cases, our world doesn't sound like it does a month ago either.
I have a number of friends who work in television news. I respect and admire the difficult, often life threatening work they are doing.  This is not a critique in any way.  But I wanted to put together some ideas to help make everyone sound a little better when broadcasting from home. Yes, I realize that our audience is much more concerned with getting important life-saving information than the quality of the audio.  But it appears we will be living in this world for another month or two.  Broadcasting from home is becoming less "temporary." I'm hoping to share some ideas.
The Equipment/Microphones:
Here is a list of ways to create audio, in order of best to worst quality.  Exceptions and intricacies do exist, but these are general guidelines.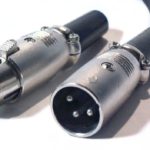 Microphones with an XLR connection (pictured)
Microphones with a USB connection
Corded iPhone headphones
Bluetooth headphones (like AirPods)
Speakerphone
Built in laptop microphones (these are the WORST – because they often pick up all the room noise, as opposed to just your voice).
Here's an example in quality difference.  First, listen to Green Day's Billie Joe Armstrong from the iHeartRadio Living Room Concert for America on Fox last night:
Now, hear Tim McGraw, sitting on a diving board, singing into regular old iPhone headphones.  Not only will you notice a difference in quality between the singers; you'll also notice the difference between Tim and the rest of his band.
Granted, Billie is using a Shure SM7B microphone, which retails for $400 and can be found in many radio station studios (as well as my home studio).  But I'm not suggesting every reporter in the world go drop $400 in an uncertain economy.
If you want to hold a microphone in front of your camera or webcam, and are looking for an easy USB microphone, the Samson Q2U is the mic that I send to most of my remote podcast clients, and it sounds great.  It also comes with a small stand, if you prefer to use it that way.
Many reporters are used to having a clip on, or lav mic.  If that's the case, it most likely has an XLR connection.  To get from XLR to the USB port in your computer, you'll need a converter. Several of my clients have had good experiences with the Focusrite Scarlett Interface.  For minimal investment on your part or your station's, you'll sound so much better.  (Plus, you'll sound great if you want to start a podcast!)
The Room:
Sound waves love to bounce off of hard, flat, nonporous surfaces.  However, they will generally be absorbed by a softer, more forgiving environment.   I realize, in television, it's important to get the shot to "look" good.  It's not an issue we have in podcasting.  That said, here are some things to consider.
A glass window or a metal desk/filing cabinet near you will often "reflect" the sound waves back to you.  And a room with hard ceilings will likely cause echo or reverb.   For this reason, kitchens and bathrooms are often the worst rooms in a home for podcasters.  Bedrooms and living rooms are better.  Blankets, pillows, and couches often "dampen" sound reflections as well as expensive padding, without the cost.  (I've even heard of voice-over artists who have built pillow forts and crawled under the sheets in hotel rooms while traveling).  Many podcasters record in their closets, where all of the hanging clothes absorb sound as well.
Again, I realize for television, you need to look good in the shot.  But when possible, avoid those hard flat surfaces.   And with a good microphone, even one attached to your soft, sound absorbent tie or shirt, your viewers ears will thank you.  Broadcasting from home is the "new normal." If it's going to be here for awhile, let's make it sound better.