Ways To Make A Podcast Ad?
Truthfully, there are a number of ways to make a podcast ad. You can insert a prerecorded, already-produced commercial in your show. And if you can make money doing it, great!
You can read a script verbatim from a commercial sponsor. Again, if you can make money at it, well, vaya con dios.
The the truth is, however, the most effective podcast ads are the same as the most effective radio ads – the live read, or endorsement. This is when the host tells you, in his or her own words, about a particular product, service, or establishment. Audio is an intimate medium; think about how connected you felt to your favorite morning show personality when you heard them on the school bus or in the car. If that trusted voice tells you about a company, it will carry much more weight than the guy from production reading a script. (I should know, I read many scripts in my various off-air roles in radio.)
Why Advertise on Podcasts?
Edison Research's annual Infinite Dial for 2019 shows that more than half of podcast listeners are at least somewhat more likely to consider a brand advertised on a show.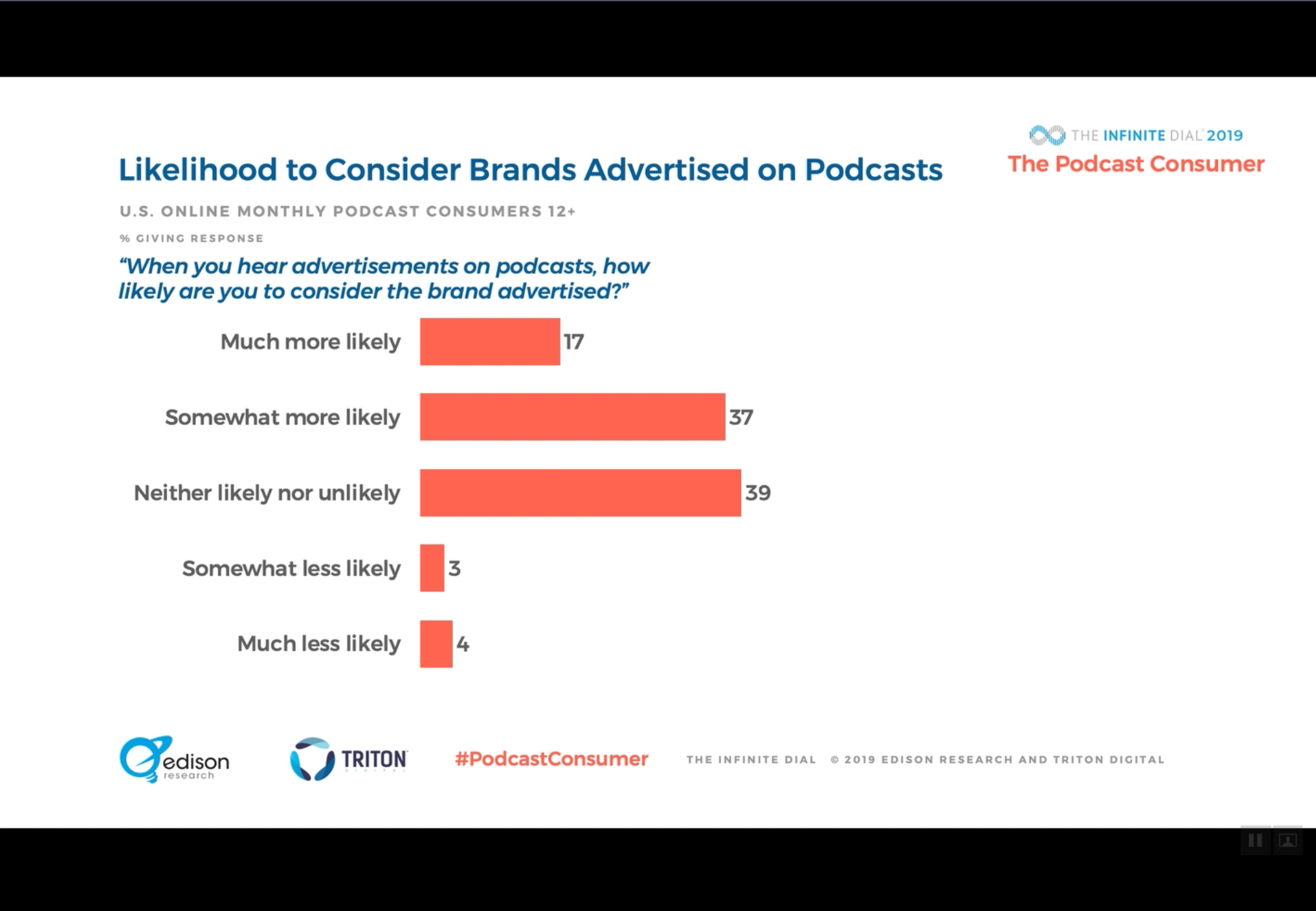 The Good: Pod Save America
One of the podcasts I listen to regularly is Pod Save America, narrated by former Obama staffers. They comment on our current politics and what's going on in DC. I enjoy their perspective because they've all worked in the White House. As a podcast producer though, I was very impressed by the commercials. This is a long show, usually about 90 minutes. There is a presenting sponsor at the beginning, Ziprecruiter. And there are two commercial breaks within the show – with 2-3 ads each. These are for national companies like Stamps.com, the Cash App, and Quip.
These ads are all recorded ahead of time, but they are done so by the show's hosts. At first, I was picturing mortified PR people at these companies. The guys were joking about President Trump needing Ziprecruiter to fill all the vacancies in his administration. They were yelling at each other over who needed to be reimbursed for pizza with the Cash App. Anything goes in these ad-libs except, apparently, Game of Thrones spoilers. That's what got them the most backlash.
Why would these companies allow the hosts to clown on their products, sometimes even making fun of the copy in front of them? Two reasons. 1) With custom URL's and tracking, they can clearly see the ROI from the ads. People are buying the products. 2) The content is compelling. Like a DVR, you can very easily skip over ads in a podcast. Click +30 a few times, and you're good. But when the content is new, and entertaining, sure, I'll listen to an ad. And with their Cash App ads, every listener download of the app turns into a $5 donation to Pod Save America's current charity.
You'll notice the picture of Quip in this post. Yes, I bought the toothbrush. In a recent ad, they laughingly said that using Quip will make you a better lover. Of course, I know that's a joke. But I've heard the ad enough times with fresh content. And yes, I got sick of my old electric toothbrush. So I spent $25. I'll let you know how I like it.
The Bad – The Podcast I Won't Name
I'm not in the business of trashing people, so I'll avoid specific names here. But I grew up in Boston and I listen to a Boston sports podcast every weekday morning. It's just a repackaging of the best 15 minutes of content from last night's 3 hours of TV coverage. Usually it's about 5 minutes on each topic. Well, they finally have a sponsor – Manscaped.com. Click the link at your own risk – it's exactly what you think it is. It's a well-targeted ad, directed at a mostly male audience. And it's a clever ad-lib by one of their wackier personalities. So I listened to the full 90 second ad at the beginning of the podcast. Then I heard the same ad, verbatim, at the end of the show. And it's been the same exact content for a few weeks, twice in each show – a span of 15 minutes. I haven't listened all the way through since I first heard it.
A cable network produces this podcast, and good for them to be monetizing it. But this isn't live television where you can run the same ad over and over. Times are changing. If your content isn't compelling, and dynamically changing, I'll skip it. And I'm not the only one.